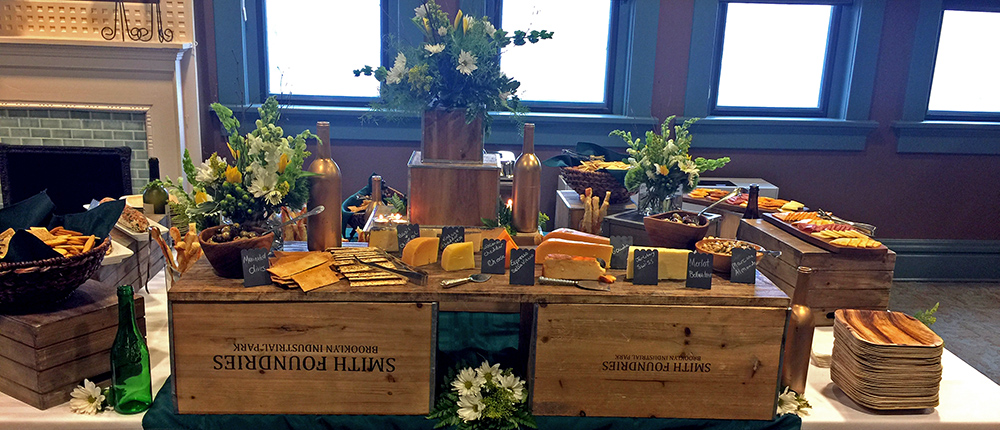 ---

Appetizer Stations
Fruit Cascade 
With Pineapple on Top or Carved Bride and Groom. Served with Fruit Dip of Choice; Chocolate Hazelnut, Fluffy Marshmallow, Pina Colada 
---
Cheese Display
With a selection of six kinds of cheese, Salami, Peach Pepper Spread, and a variety of Crackers with the following selection of either a Sun-dried Tomato Cheese Terrine or Cheese Logs
---
Vegetable Display
Seasonal Fresh Vegetables with Dip
---
Chip and Dip Display
Choice of Three Dips:
French Onion Dip and Potato Chips

Bacon and Caramelized Onion Dip with Flat Pretzel Chips

Tahini Hummus with Pita Chips and Carrots and Sugar Snap Peas

Salsa with Tortilla Chips

Chile Con Queso with Tortilla Chips

Pizza Dip with Mini Breadsticks and Tortilla Chips

Beer Cheese with Pretzel Sticks

Saratoga Chips with Barbecue Sauce

Shrimp Platter – Layered Dip of Cocktail Spread, Salad Shrimp, Cucumbers, and Green Onions.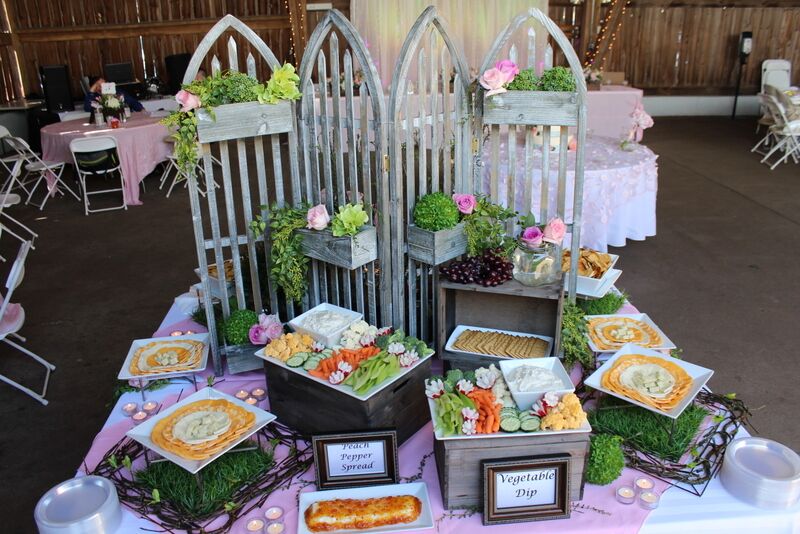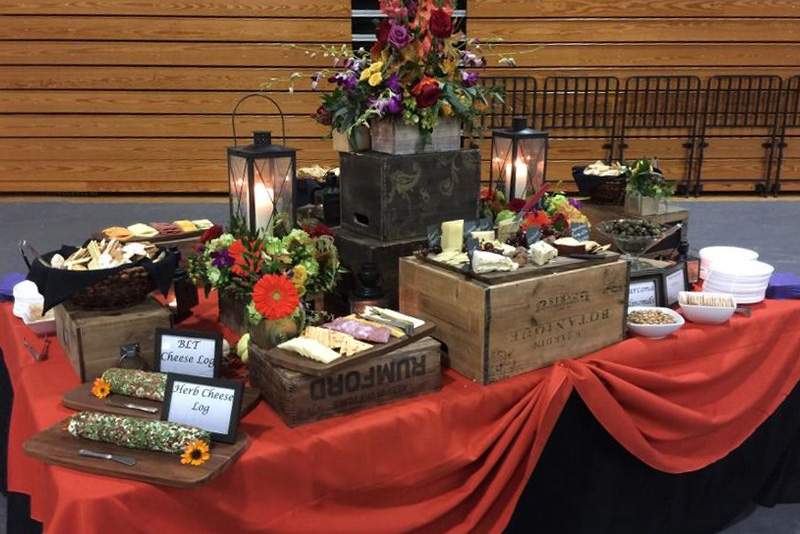 Appetizers Served Hot
Boneless Breaded & Buffalo Boneless Chicken Wings 
Served with Celery, BBQ Sauce, Ranch Dressing and Bleu Cheese Dressing
---
Tangy Meatballs
Barbecued with a hint of smoke
---
Stuffed Mushrooms
Stuffed with Sweet Italian Sausage, and Creamy Mascarpone Cheese
---
Mini Mac and Cheese Bites
Homemade with White Cheddar Cheesy Macaroni in a Buttery Crust
---
Bacon Almond Crostini (Passed by a waiter) 
Broiled Monterey Jack Cheesy Bacon Mixture on a Baguette Toast
---
Onion Puff Crostini (Passed by a waiter)
---
Crab Cake with Mango Chutney (Passed by waiter)
Served on an Asian spoon
---
Dips 
Sherried Crab Dip or Bacon Cheddar Dip or Roasted Artichoke Dip
---
Polenta Fries with Roasted Pepper Tomato Sauce
Served in Cones and Passed
---
Bacon Wrapped Sausage Stuffed Dates
---
Risotto Cakes (Served by a waiter)
Crispy Exterior around a Creamy Risotto topped with Shredded Parmesan Cheese and Served with Marinara Sauce
---
Chicken and Waffle Bites
Served with a pipette of peach maple glaze
Appetizers Served Cold
Smoked Salmon
Served with Chopped Egg, Capers, and Dill Sauce, and Toast Rounds
---
Pickled Asparagus
Wrapped with Black Forest Ham
---
Fresh Mozzarella, Tomato, Basil Skewer
Served with a Balsamic Reduction
---
Marinated Kalamata Olives, Cheese Tortellini, and Ham and Pickled Asparagus Pinwheel 
---
Tomato, Fresh Mozzarella, Basil Crostini with Balsamic Reduction
Torched on Site
---
Artisan Cheese Board
Includes the Cheese Display along with Sartori Cheese Wedges, Sliced Cheeses, Salami, Grapes, Marcona Almonds, Marinated Green and Kalamata Olives, and Summer Sausage. Includes Cracker Bread and Specialty Crackers. 
---
Fruit and Artisan Cheese Board
Includes the Cheese Display and Artisan Cheese Board along with Strawberries, Dried Fruit, Effie's cake crackers, Summer Sausage, Buttery Bleu Cheese Spread and Hot Jalapeno Cheese Dip in a bread bowl. Includes Cracker Bread and Specialty Crackers.
---
Shrimp Shots
Shrimp Cocktail with a Chive Strip served in a Shot Glass
---
Shrimp Cocktail Served in an Ice Bowl
---
Shrimp Tower
---